News to circulate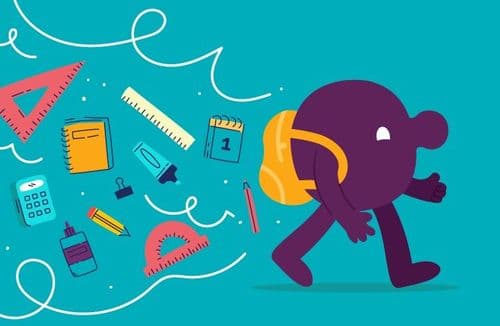 27/01/2022
Back to school: circular economy in practice
February is coming and with it the end of vacation and back to school. This is an important planning period for families, students and teachers alike. How about doing a reflection at that moment on how we can improve our habits and create a better world - and without garbage? We've gathered super cool tips from experts for you who want to start the year in a more circular way. Check out!

School supplies

If you are a student, parent or guardian of a young person, this is the time to choose school supplies, isn't it? And you can make better choices to avoid waste. The first tip is to think about what you really need to buy. Many materials such as pens, crayons, pencil cases, backpacks and folders can be reused from the previous year. Used agendas can also become great scratch pads, have you thought? For stationery materials, it is nice to pay attention to the certification seals that inform about the most sustainable production, for example.

Individual cup or bottles

How about taking your own glass or bottle from home? By avoiding single-use disposables, we can help reduce the consumption of raw materials and the amount of waste generated in our daily lives.


Books

Pedagogical coordinator of the circular movement, Prof Dr Edson Grandisoli says that, more than choosing second-hand bookstores to buy books, a good solution would be to mobilize parents and guardians through WhatsApp groups or social networks to exchange books between students from different series. The same would be true for school uniforms. Not cool?


Walk or cycle

If you live close to your school, college or university, why not move actively and walk or cycle?

Schools also play a key role! If you work in an educational institution, you can be an agent of transformation, starting from simple initiatives. For example, you can map students who live nearby and organize groups of parents or guardians who can offer rides. Thus, we can reduce the number of vehicles on the streets to the same destinations. Good for urban mobility and also for the future of the planet, have you thought?

Teachers

If you are a teacher or school manager, you can do even more for the circular economy by including the theme in your lesson plan for the year! If you are not yet familiar with the subject, you can access exclusive content on the subject at movimentocircular.io/en/para-ensinar. In the section, didactic sequences are available to facilitate the approach of subjects in the classroom.

What is circular economy?

Circular Movement is committed to contributing to the transformation of the linear economy to the circular economy, a model of functioning in which nothing turns to waste! To take this mission even further, the initiative created the Circular Academy, the first open circular economy school, with 100% free, certified courses available in three languages. Enroll now at academy.movimentocircular.io and be part of the change!