News to circulate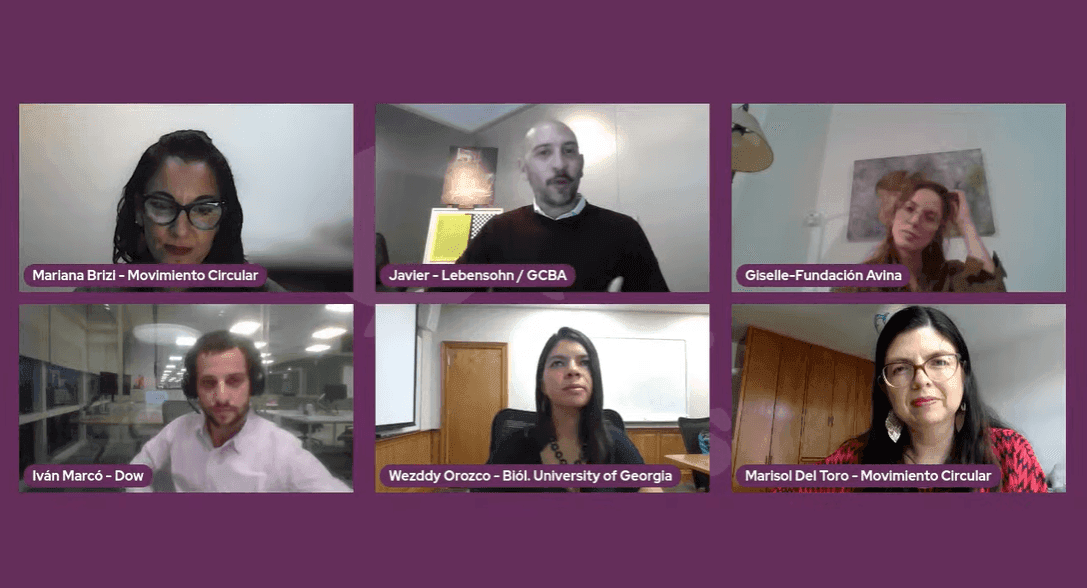 07/09/2023
Transition to a Circular Economy: opportunities and redesign of consumption practices
By Mariana Brizi, from the Circular Movement

How to move towards a Circular Economy? We know that circularity generates great opportunities for the environment, people and companies, but it is also essential to know how to redesign certain practices, consumption and acquired habits in order to lay the foundations for a change that requires more and more commitment.

To discuss this topic, 4 panelists took part in an amazing panel discussion at the Circular Talks called "Design for Circularity".

Let's keep in mind some numbers to build up a context: According to a recent report by PACE (Platform for Accelerating the Circular Economy) the world is 7.2% circular, down from the 9.1% achieved in 2018. This clearly shows us how much the global industry continues to extract materials from the planet and how many opportunities we still have today to continue promoting the reuse of so many resources that end up being thrown in the trash.

The circular economy is one of the ways in which we can preserve water, air and soil. And a first step is to keep us informed to create a shared vision of the future.

Design for circularity is an everyday thing

Mr. Ivan Marco: Market Development Manager for Dow in the southern region of Latin America, was the first speaker at this meeting and remarked that "Those of us who provide raw materials for packaging focus on reducing pollution and waste, while maximizing product durability." In addition, something that the specialist made clear is that transforming the linear economy into a circular one requires a lot of work and shared effort and that is why we all have to understand what possibilities we have from our standing. "We try to give value to the entire chain, so that even the last link remains interested in this product and values it as such," remarked the specialist and commented on the success story of Café Sello Rojo, whose traditional metallic paper could be transformed by one recyclable to monomaterial package so that it has new life and closes its cycle.

Pollution is a design error

Wezddy Orozco, biologist and Master of Science was able to put several examples under the magnifying glass for awareness. The linear economy based on extracting, consuming and discarding impacts in loss of diversity and we must know what our impact is with each of our actions. Designing products for a single use, even the behavior of not separating, created an urgent need to move towards a circular design. In nature nothing is wasted, one's waste is new material for others. How much we can learn from this model! "Latin American countries have great diversity and people are very interested in innovating. This is something that motivates us all to change, to find alternatives that protect what is most precious", highlighted the specialist and invited us to recognize local recycling alternatives in different types of consumption: clothing, for example, is an industry in which that we must pay special attention to learn how to make the most of it and drastically reduce waste.

It is important to recognize the fundamental actors: the urban recuperators

Giselle Baiguera, Coordinator of the Inclusive Recycling Program in Argentina and Paraguay at Fundación Avina invites us to make a conscientious reconsideration of the role of waste collectors, who are one of the most important links in the recycling chain but, nevertheless, still they need to improve their conditions of social and labor inclusion. Visualizing your contribution is the only way to move towards the concept ofe "fair ton", which helps us to demonstrate the need to have a dimension of its impact on the transition towards a circular and fair economy.

Sustainable growth is the one that does not challenge ecological limits

Mr. Javier José Vázquez, General Director of Ecological Restoration and Environmental Recomposition of the City of Buenos Aires, Argentina, and Coordinator at the Lebensohn Institute, focused his analysis on a special invitation: that we rethink the the natural development of any ecosystem has a lot to teach us and any industrial design must contemplate it to learn. "The circular economy must aim at this and the State plays a fundamental role. In Argentina, especially, we must start working together with industrial designers and in universities, to promote design with circularity through laws and scholarships," explained Vázquez. And this is linked, explained the official, to the new technologies that are also necessary to continue transiting and make sustainable development a reality. "That the urgent does not prevent us from thinking about the important", highlighted the specialist. And this is a great message with which we close this webinar: the time is today, moving towards the circular economy must involve all the actors starting today.

Let's continue discovering the opportunities generated by Design for a Circular Economy! We can all add our contribution, the transition is achieved by working together!