News to circulate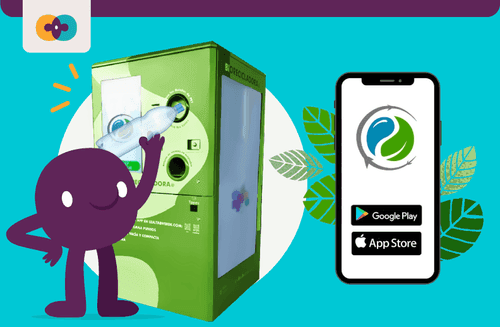 11/04/2022
Company rewards correct waste disposal
What do you do with PET bottles, juice containers and aluminum cans? Just throw it in the trash? Not if you want to contribute to the Circular Economy! Materials like these don't necessarily have to become waste, but they can - and should - be used as inputs in the production of new products. For this to happen, it is essential to proceed with the correct disposal. This is one of the principles of the Circular Economy. But what if, in addition to contributing to the conservation of the planet, you still get discounts and cashback for this action? That's the way it is in Mexico!
The Mexican company named Lealtad Verde, specialized in Circular Economy and urban solid waste management, has created an affordable and profitable solution for this demand. A pioneer in encouraging circularity and partnering with Circular Movement in Latin America, LV developed biorecycling machines, a business model that collects solid waste in exchange for points and discounts at partner companies, the so-called "Green Allies".
Under the leadership of Adrián Sánchez, Lealtad Verde aims to "neutralize the carbon footprint in Mexico and in the world", a necessary path to face climate change and in line with the UN Sustainable Development Goals (SDGs).

"We developed an economic model that allowed companies to see sustainability as an investment and not an expense", highlights Adrián Sánchez, the company's CEO.

How do biorecycling machines work?
Biorecyclers receive PET bottles, aluminum cans and HDPE (High Density Polyethylene), plastic used in yogurt, juice, milk, ice cream and cleaning products packaging. Equipped with barcode readers and sensors that detect the products inserted, they crush the waste to optimize its storage and have the capacity to store up to 30 kilos of compacted material, destined for recycling.
Through an application, consumers who have scanned the barcode of each package discarded at the machine receive points, choose rewards to redeem, visualize the impact of their actions in reducing their carbon footprint and locate the nearest collection points.
In 2022, LV intends to have 500 new machines and by 2025 to reach a total of 6 thousand units spread not only in Mexico, but also in Uruguay and Spain.

"An action as simple as separating waste has a huge impact on reducing our carbon footprint, which can be instantly measured by recycling in our machines," explains Adrián Sánchez.
Other circular solutions
In addition to biorecycling machines, Lealtad Verde offers the collection of solid waste stored in bags with bar codes provided by the company, which also earn points in the application, and delivered to collection points. It also provides advisory services to companies in carrying out the plan to obtain the Circular Economy Certificate, required by the new General Law of Circular Economy of Mexico, which was enacted by the Senate of the Republic in November 2021 and promotes clean and responsible production model.

Partnership between Lealtad Verde and Circular Movement

As a partner of **Circular Movement **, Lealtad Verde promotes the Movement platform on 4K screens installed on all recycling machines (spaces for paid advertising) and on its website, encouraging users to learn about our content and actions. In addition to actively participating in events, debates and activations promoted by Circular Movement for Latin America.

Sustainable Entrepreneurs Forum
In March, Lealtad Verde participated in the event "Sustainable Entrepreneurs Forum", promoted by the digital journalistic platform "Las Empresas Verdes", aimed at organizations, investors and decision makers who seek to enhance and consolidate their businesses based on the principles of sustainable development in Mexico.
At the meeting, Adrián Sánchez highlighted the importance of social enterprises and that it is possible to have profitability in environmental impact initiatives.

"The social enterprise does not need to have a profit motive, but it has to be profitable, because you don't invest in what is not profitable. This is how companies committed to the care and preservation of the environment provide benefits to the Lealtad Verde community for their actions of separation and recycling of urban solid waste", summarized the CEO.

What is Circular Economy?
The Circular Economy proposes a new look at our way of producing, consuming and discarding, in order to optimize the planet's resources and generate less and less waste. In other words, an alternative model to the Linear Economy - extract, produce, use and discard - which has increasingly proven to be unsustainable throughout history. In the Circular Economy, the goal is to keep materials in circulation for longer periods through reuse, until nothing becomes waste! For this model to become a reality, we all have a role to play. It is a true collaborative circle, which feeds itself, and helps to regenerate the planet and our relationships.

About Circular Movement
Created in 2020, amid the crisis caused by the Covid-19 pandemic, Circular Movement is a collaborative ecosystem that strives to encourage the transition from linear to circular economy. The Movement is an open initiative that promotes collaborative spaces with a mission to reach more people and places. Its purpose is to inform people and institutions that a future without waste is possible through education and culture, the adoption of new behaviors and the development of new processes, products and attitudes.