News to circulate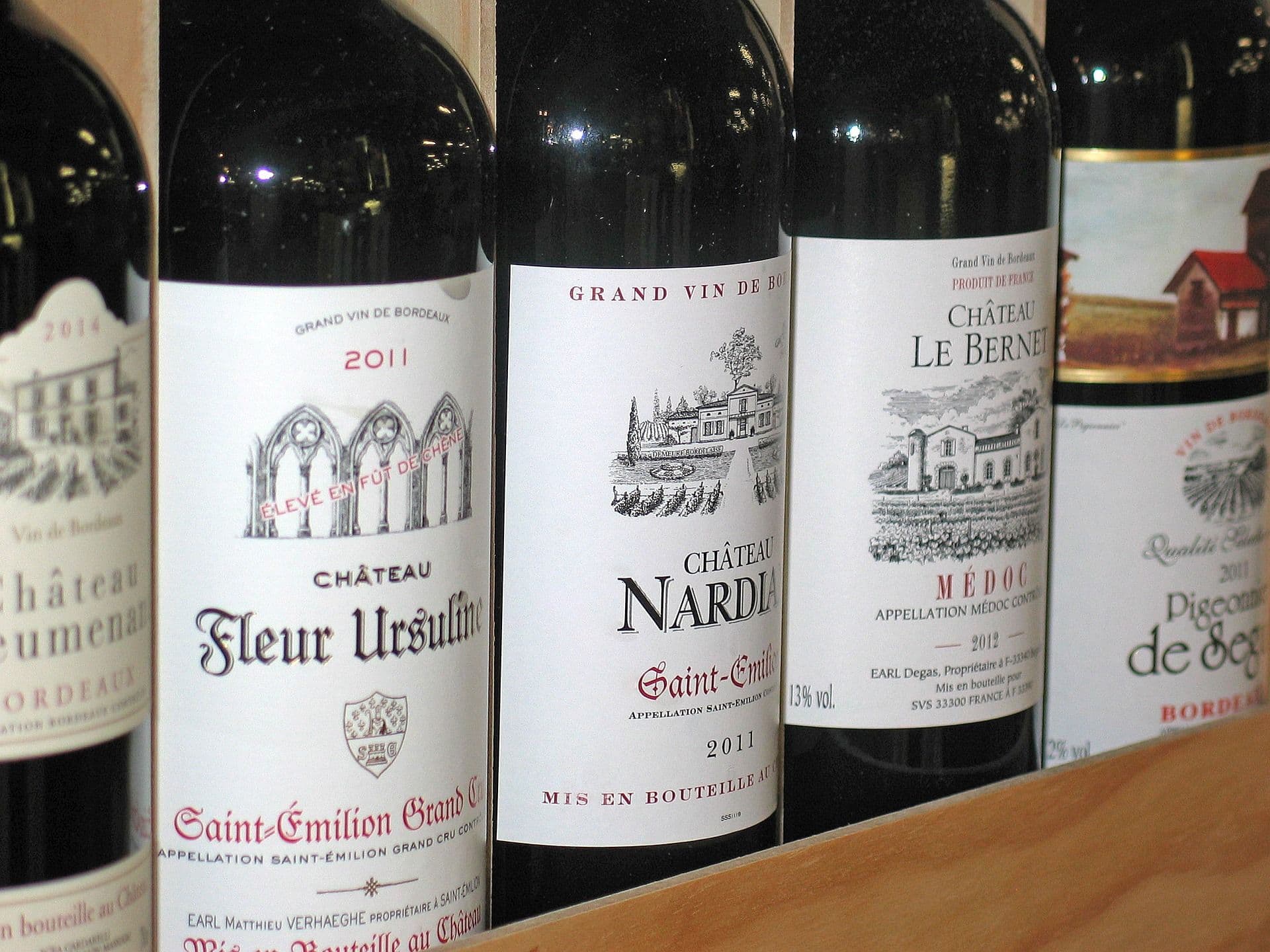 27/07/2023
Circular Economy: How are labels and circularity related?
As part of the packaging, labels need to be thought to fit the precepts of Circular Economy

*By Aline Vieira and Arlene Carvalho, especially for the Circular Movement

When you think about sustainability with regard to packaging, what comes to mind right away? Recycling, reuse, selective collection, waste destination? But have you ever considered the labels that identify these products? Is the recycling process for them the same as for their respective packaging? How does the conception of these labels relate to Circular Economy?

To start thinking about this, we must understand a bit more about contaminants. They are biological, physical, or chemical agents that are unintentionally introduced into the products and can bring harm to the health of the population. The precaution to avoid these agents is strict and regulated by the governments of each country. In Brazil, for instance, this process is carried out by the National Health Surveillance Agency (ANVISA) to minimize or eliminate risks to human health and the environment.

Contaminants, for example, can make recycling impossible for a particular type of waste residue. Therefore, when separating a package for this process, it is necessary to observe all of its components – that is, it is interesting to pay attention to details such as seals, locks and even labels.

Circular Economy invites us to think about all phases and parts of a product, that is, how it should be thought about so that it does not generate waste and promote its recyclability. Labels, which sometimes go unnoticed, can be considered an example of this.

A new look to unfold the packaging

Imagine a common soft drink package made of plastic - bottle, cap, and label. Can all these components be recycled together, or just part of them? What about the colored ink on the label? Does it contain any toxic substance that would pose risks to health and the environment? The same concern applies to a shampoo packaging, for example. The label is often made of a type of adhesive with glue that also requires special attention.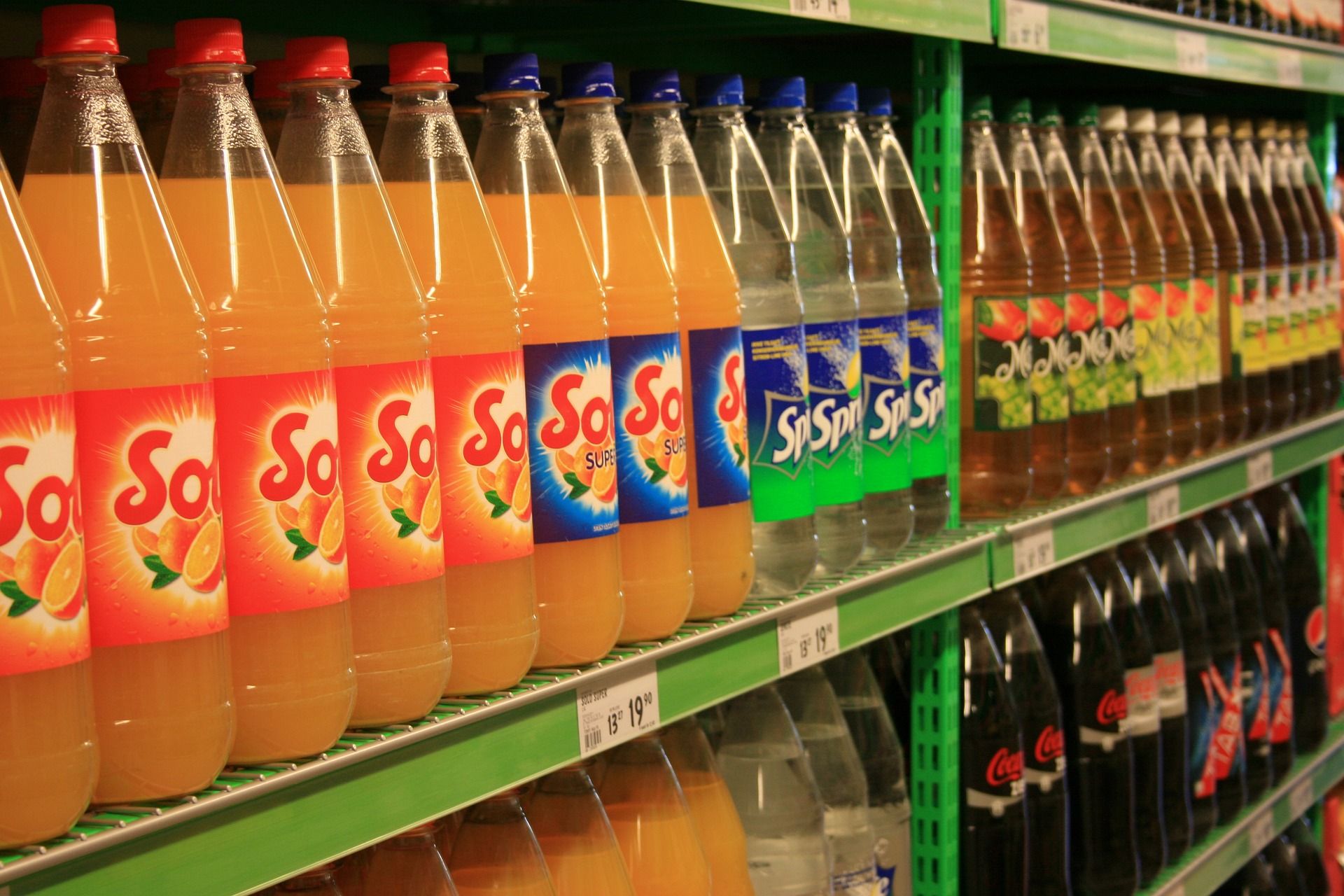 É necessário entender a circularidade dos rótulos e a necessidade de vê-los como parte de toda uma cadeia. Imagem: Pixabay

We need to consider the understanding of the circularity of labels and the need to see them as part of a whole chain. The recycling process varies for each type of material, so thinking over everything that makes up each product, whether food, pharmaceuticals, hospital, among others, becomes indispensable.

As in any and all action of our lives, circularity is related to sustainability and waste management. In the case of labels, it refers to the practice of recycling, reusing, or reprocessing this material, as well as the entire packaging, continuously creating a closed loop in which materials are kept in use for longer.

The label production science

Instead of discarding the used labels, the circularity of these residues aims to recover these materials and incorporate them again into the production of new labels or other products. But how can product design help in doing this?

These are considerations that guide the production of the American multinational Avery Dennison. The company is known for offering labeling solutions that do not impact the various recycling processes, driving the Circular Economy.

"When designing a new packaging without involving all the processes in the chain, there is a risk of choosing items that are not suitable with the process that the packaging will undergo," says Mariana Bortulluci, sustainability specialist in Latin America at Avery Dennison.

According to Mariana, it is important to consider the product's design and the type of label it will take. "It seems like it's just paper and glue, but there's a very complex science behind it. The label of a moisturizer, for example, is self-adhesive, and all the information, you can hardly see that it is a label. And it is completely different from the wine sticker, which is different from that of a piece of meat", exemplifies Bortulluci.

The issue is so important that the company has created an exclusive program to create connection between the chain links, from end to end, joining brands, and recyclers to find new solutions and bring new life to these residues. The project is titled "AD Circular" and is composed of 136 companies of various sizes. With it, the multinational also covers the offer of solutions for the recycling of waste generated by the use of labels, transforming them into new products.

"Great brands already make a point of thinking about packaging, but still need to think about labels, decoration. This can increase the level of recyclability of the packaging or destroy its potential. One of the cases of closed loop, of Circular Economy, within the project, is observed at Natura – the cosmetics company. The company recycles paper liners and reuses pulp to make the bar soap box of the Ekos line, for example", concludes Bortulluci.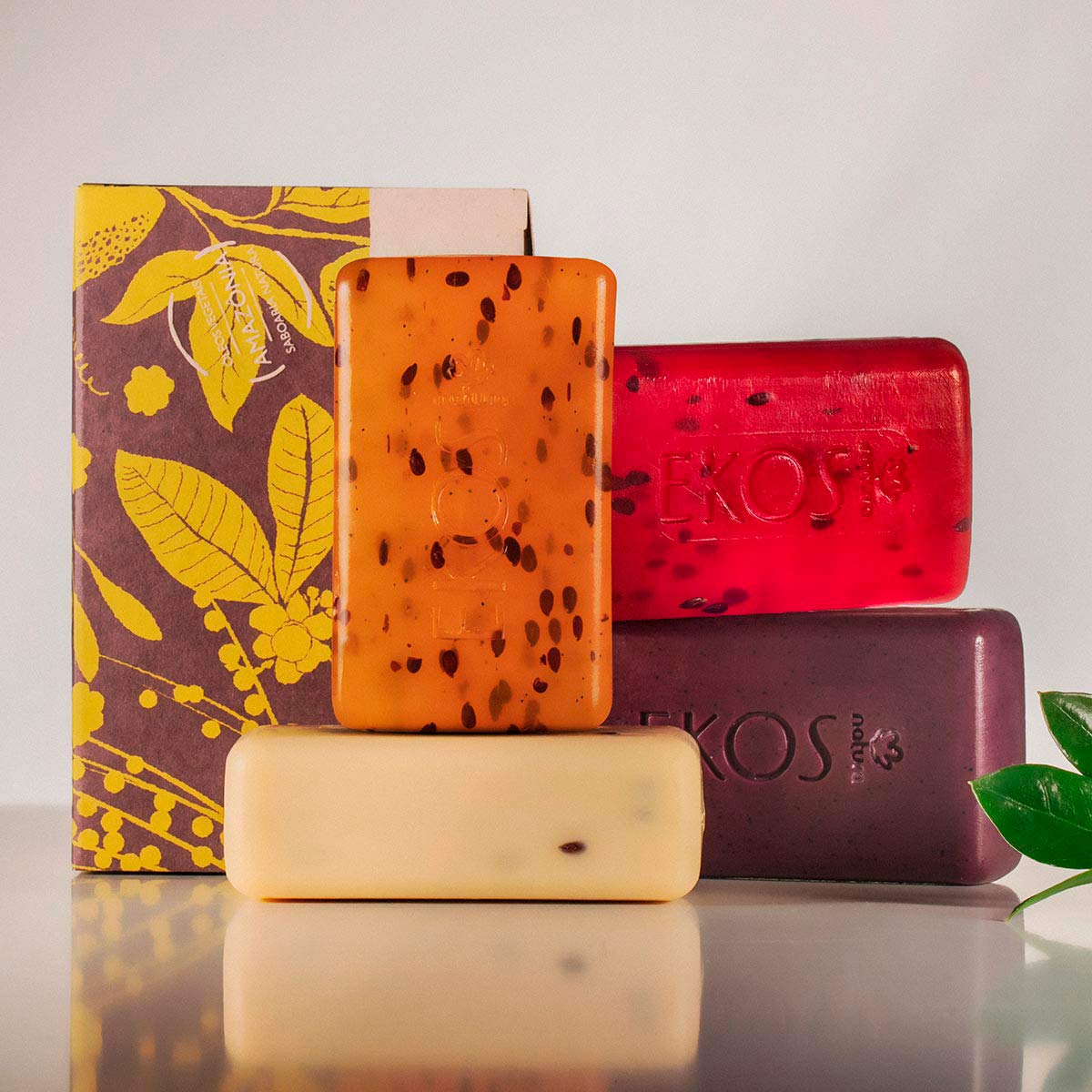 Natura recycles paper liners and reuses the pulp to manufacture the packaging of the bar soaps from the Ekos product line. Image: Disclosure/Natura

In addition to initiatives such as AD Circular, other actions, private or public, can be implemented to promote the circularity of the labels. Selective collection systems, the use of recyclable materials, the creation of partnerships with recycling companies and the awareness of the importance of recycling are just some of these actions.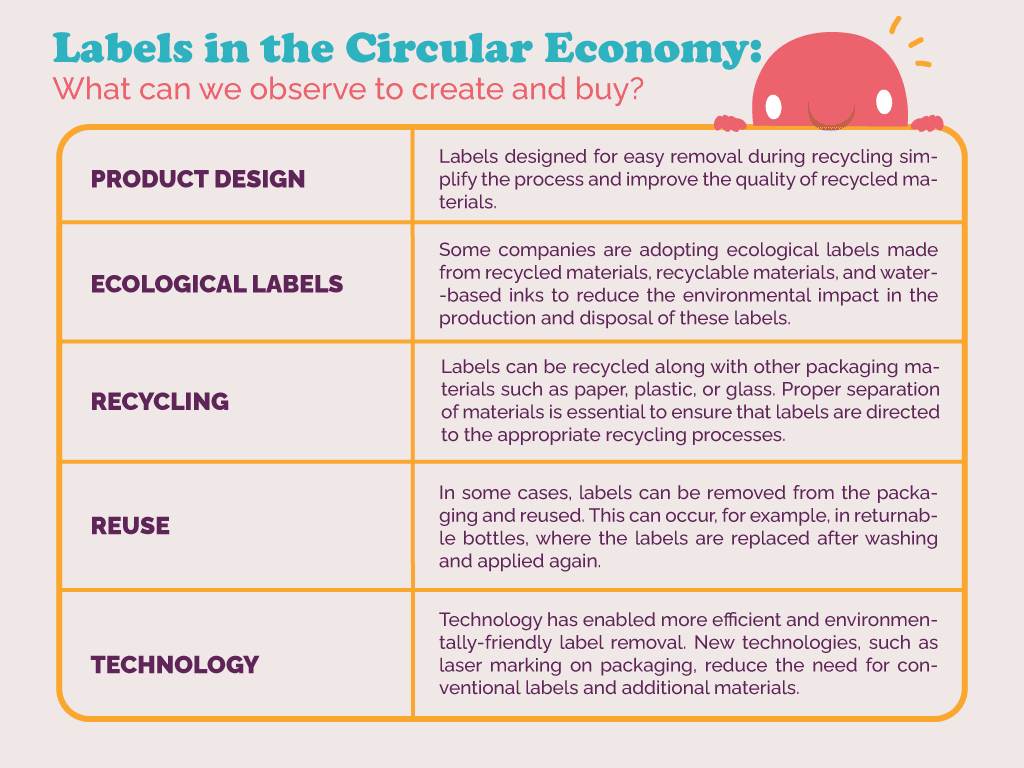 Labels that communicate and are circular

In addition to the material from which it is made, thinking about the circularity and sustainability of labels is also thinking about the main content it carries – product information. In Brazil, food labeling, for example, is about to change, but with a focus on bringing nutritional information that indicates whether a given product contains large amounts of ingredients such as salt, fats, sugar, etc. There is a lack of information to clarify how to dispose of the product and its packaging.

"Many packages bear seals promising recycling and environmental commitment, but these promises are not always fulfilled. Communication on labels can be well worked, but execution is not always as beautiful as it seems," says Luiz Grilo, institutional director of New Business at Yatto - a company that offers ESG solutions on Circular Economy and Reverse Logistics.

There is packaging that is efficient in its communication. Currently, several countries have implemented their own environmental labeling programs, also known as carbon labeling. Among the countries that adopt this practice, we can highlight Germany, Canada, Norway, the United Kingdom, European Union, United States, Japan, Australia, and Brazil. This approach aims to stamp the product's carbon footprint on the label, that is, the impact its production has caused to the environment.

The pedagogical coordinator of the Circular Movement, Edson Grandisoli, supports this practice, but advocates the creation of broader regulations that address what the label should say. "In England, for example, the bottles of wine that are imported from Chile bring this information about carbon on the label precisely. When you bring to light the externality of production, transportation, product as a whole, can this influence your consumer purchasing choices? If the answer is yes, we have to seek to create legislation," he says.

Thus, it is clear that choosing sustainable materials, thinking about the recyclability and safety of the substances used are important measures to make the Circular Economy a reality. By making conscious choices, we can contribute to the preservation of the planet and its natural resources, as well as reducing the amount of waste and promoting a more sustainable future for all. Together, we can make a difference by valuing packaging and labels that are aligned with principles of environmental responsibility and circularity.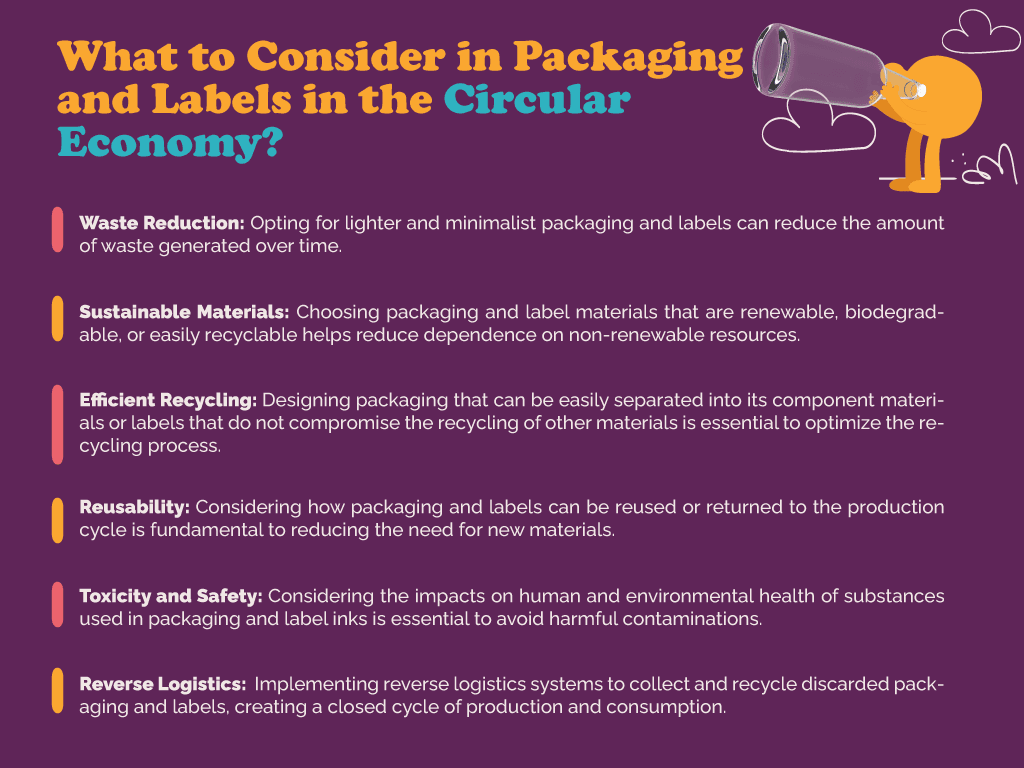 What is the circular economy?

The Circular Economy proposes a new look at our way of producing, consuming, and disposing, in order to optimize the planet's resources and generate less and less waste. In other words, an alternative model to the Linear Economy - to extract, produce, use and discard - which has proved to be increasingly unsustainable throughout history. In the Circular Economy, the goal is to keep materials in circulation longer by reusing them until nothing becomes waste! For this model to become a reality, we all have a role to play. It is a true collaborative circle, which feeds itself, and helps to regenerate the planet and our relations.

Learn about Circular Economy

If you are interested in learning more about this topic, visit Circular Academy, the first free Latin American course on circular economy aimed at general audiences. All of us, in partnership and collaboration, can make a difference in building a more circular planet.