News to circulate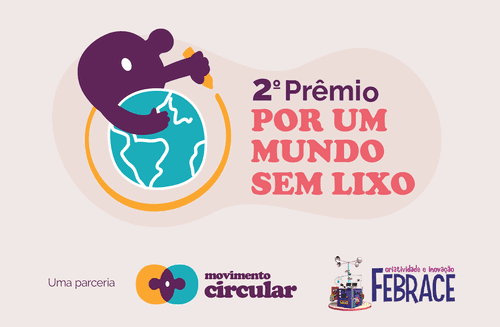 18/03/2022
Second edition of the For A World Without Garbage Award
For the second consecutive year, Movimento Circular, in partnership with Febrace (Brazilian Science and Engineering Fair), promotes the Por Um Mundo Sem Lixo Award. A way to recognize and encourage the scientific initiation works finalists at the fair, which dialogue with the precepts of the Circular Economy.

The three best works will be recognized, whose proposals bring alternatives such as the reduction of waste and the use of natural resources, changes in consumption behavior, the use of alternative sources of energy and collaboration between different actors in society in the search for the regeneration of the planet. and their relationships, for example. Proposals for a new and better way for the world to work, through the Circular Economy. The works also need to have relevance to the local reality, originality, innovation and feasibility for execution.

The members of the three finalist projects will win a course on Circular Economy and an award certificate. The 1st place will also receive a mentorship with Professor Edson Grandisoli, Pedagogical Coordinator and Educational Ambassador of Circular Movement, for the development of their project. Edson is a Post-Doctor at the Global Cities Program of the Institute of Advanced Studies at USP (IEA-USP), Doctor in Education for Sustainability by the Environmental Science Program at USP (PROCAM-USP), Bachelor and degree in Biological Sciences, Master in Ecology of Terrestrial and Aquatic Ecosystems from USP, Consultant and Speaker in Education and Sustainability.



WHAT IS CIRCULAR ECONOMY?

The Circular Economy proposes a new look at our way of producing, consuming and discarding, in order to optimize the planet's resources and generate less and less waste. In other words, an alternative model to the Linear Economy - extract, produce, use and discard - which has proven increasingly unsustainable throughout history. In the Circular Economy, the goal is to keep materials in circulation for a longer time through reuse, until nothing becomes waste! For this model to become a reality, we all have a role to play. It is a true collaborative circle, which feeds itself, and helps to regenerate the planet and our relationships.