News to circulate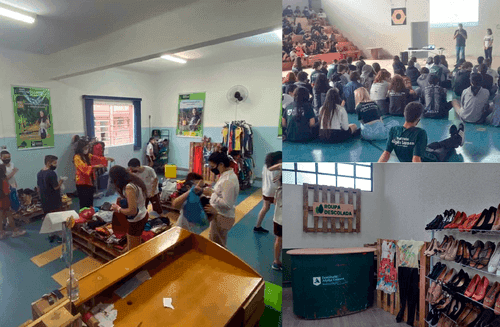 17/12/2021
Meet the project impacted by Circular Academy
It was from a project at the 12-year-old son's school, carried out in late 2020, that 42-year-old computer engineer Alinye Amorim had the idea of ​​creating a transformative initiative. Thus, in August 2021, the Roupa Descolada was created, a project that makes it possible to exchange clothes, so that nothing is wasted.

In order to become more and more specialized, she pursued certifications and ended up getting to know the Circular Academy, the first open school on circular economy, launched by the Circular Movement this year.

Alinye is one of more than 770 people who have signed up for the platform's first free course, and the classes have already brought results to the initiative!

Today, Roupa Descolada has two units, located in São José dos Campos, in São Paulo. Both work in schools, which gave space to the initiative.

The dynamics of the project are as follows: interested people take clothes of any size and exchange them for others they choose at the fair, free of charge. "I always had this desire, I always said that I needed to do something that would impact the world. That's when the project came about and it was a success! In two months, we exchanged more than a thousand pieces", says the engineer.

In addition to exchanges, the project also has an educational role. In the institutions where it operates, Roupa Descolada offers lectures on circular economy to students from different years. And it was there that the course "Introduction to Circular Economy", by the Circular Academy, played a fundamental role in the history of the initiative.

"The course helped me a lot. The material is short, objective and very light. As I work with children and young people, I need to transmit this knowledge as simply as possible. I found just that at Circular Academy. It's really cool to receive feedback from teachers, saying that students are able to make connections between what I say in the classroom and the subjects they are learning. It means we are on the right path," says Alinye.

Circular Academy was launched in September 2021 and, as of December 14, it had already gathered 774 students enrolled in the first course. The first course available on the platform is "Introduction to Circular Economy", beginner level and approximately 6 hours long. It is interactive, offered in three languages, and certified. The first course is the result of a partnership between the Circular Movement, Dow and Valgroup, and also has institutional support from the Global Compact.

"It's a joy to see results like this in such a short time. There was excellent adherence to the course and getting to know projects like Clothing Descolada, which has already benefited from the contents of the first Circular Academy course, is our greatest achievement. It is through education that we will transform reality and build a world without garbage. We have come a long way in 2021 and I am sure that we will reach even greater goals in 2022. Together, we will build a more circular world - and better - for everyone", defended Vinicius Saraceni, coordinator of the Circular Movement.