News to circulate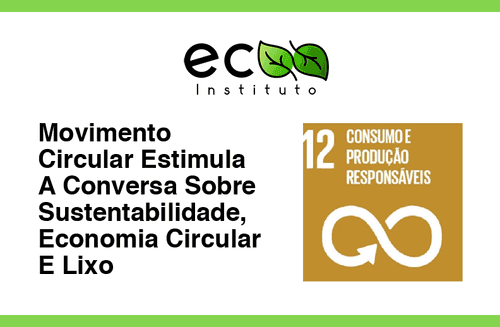 25/05/2021
CM is news on the Ecoo portal
Translated by Google Translate


The Circular Movement was also featured on the Ecoo portal, chatting super interestingly about the impacts of a circular economy for the construction of the future we want - without garbage! See the material and learn more about the Circular Movement:

Circular Movement stimulates conversation about sustainability, circular economy and garbage

In Brazil, according to data from the World Bank, more than 2.4 million tons of plastic are discarded irregularly, without treatment and, in many cases, in open dumps. Approximately 7.7 million tons of waste is sent to landfills.

Papers, metals and glass are also highly recycled elements in Brazil and in the world, but they end up being often discarded and not destined for recycling. To reverse this situation, the circular economy is an important alternative in the solution pointed out by experts. It proposes to close the circle, from the beginning of the chain of materials that can be recycled until its reuse, different from what happens today, which is linear. It guides a change in every way of consuming, from product design to our relationship with raw materials and waste, with the goal of never becoming waste

With the purpose of instigating the beginning of a new culture and thinking for a responsibility that belongs to everyone, the Circular Movement (www.movimentocircular.io) is born, an initiative to stimulate this conversation and awareness, with the objective of showing the possibilities of a new reality. On the online platform, free content is available on everything that encompasses the circular economy, for teachers, students, companies and their collaborators, and whoever else wishes throughout the country.

Do you know what circular economy is?

Themes such as: food, industry, opportunities and cities in the future, can be accessed both by computers and cell phones. In addition to the interactive content, several activities are available for teachers and other interested parties, which can be downloaded and edited, which guarantees the autonomy of the educator over the content.

For Vinicius Saraceni, director of Atina Educação, "the objective is precisely to democratize access to quality information. We want teachers to be inspired, to articulate their use in online classes, for companies to include themes in their training for employees and so on. The more widespread, the better, because change is urgent. "

Public and private schools

Teachers of Elementary I, Elementary II and High school can find complete didactic sequences on the platform to apply in the classroom, adjusting and adapting according to their own context. The didactic sequences, which are a practical lesson plan, were developed by a robust teaching staff and produced by teachers Ana Lucia Gomes dos Santos and Marina Rezende Lisboa, with the pedagogical coordination of Prof. Dr. Edson Grandisoli. All the material is aligned with the National Common Curricular Base (BNCC), and can be used as a complement to the mandatory curriculum of some subjects or as a general and extracurricular activity

"At this moment, when the school dynamics has had a great impact, we are confident that these contents can be of great help, either as an additional stimulus to students, or as a valuable contribution to teachers," says Prof. Dr. Edson Grandisoli.

For Vinicius Sareceni, the subject is fundamental: "a survey carried out with teachers from Atina's training course showed that 66% of technical school teachers had never heard of the term 'circular economy' before. The Circular Movement platform meets the need to fill this gap and offer access to a universe of new possibilities to educate and learn ".

Map of Initiatives

In addition to the content, teachers and the general public can access the Map of Initiatives, on the "Take Part" page. In this section of the website it is possible to find and register projects that are happening in schools and communities in cities across Brazil

Business and general public

The content can also be expanded to companies, employees and anyone interested in individual learning. Authored by Professor Gina Rizpah Besen, the themes explore the concept of the circular economy and what cities in the circular future will look like, and can be used in corporate training and lectures. Learn more and participate in the CIRCULAR MOVEMENT: www.movimentocircular.io