News to circulate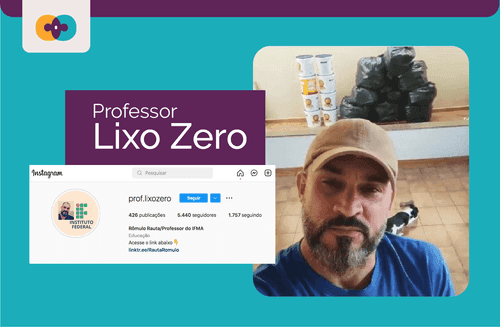 23/03/2022
Family will spend a year without producing trash
Have you ever wondered if you and your family could live a year without generating waste? This was the mission undertaken by Professor Romulo Rauta, aged 51, in the house where he lives with his wife and two children, in São Luís, in Maranhão. In July 2021, he decided that he wanted to teach boys in practice how we can build a more sustainable and better world for all. Since then, a pact has been made: the family would spend a year without producing waste.

"When I turned 50, I was very concerned about what I was leaving behind as a legacy for my boys. More than a car, an apartment, I want to leave them something that makes sense, that adds to life. I realized that my children knew a lot about theory in environmental education, but not about it in practice. It's very easy to talk about what needs to be done, but how it always ends up becoming a gap. So we decided to put everything into practice and to teach by example that it is possible and much easier than we imagined to create a world without waste. We became the "zero waste family", says the professor, who is an engineer in forming materials.

The first stage was planning, but the day-to-day was teaching how the family should deal with the production, storage and reuse of the waste generated. "We began by separating the waste. For the dry materials, we created a residuary, starting from a basket of clothes. Everything goes there. When it fills up, we take it to the ground floor of the house and stratify it. Plastic is stored with plastic in a bag, metal with metal and so on", Romulo explains.

Wet waste is stored differently. "We don't have a dumpster in the kitchen sink, but a blender. When it fills up, we process it and we put it in the compost, the destination we find for the organic waste. The compost tree was the fruit of many tests, but we managed to create the correct procedure so as not to have larvae or a bad smell", he says.

The decision to store all the waste for a whole year came precisely to prove to people that it is possible to be more sustainable without inconvenience at home. "A lot of people argue that they can't put together even a week of the waste inside their homes so that they can make a single drive to a co-op because it will smell bad or bad. I decided that we would store a year, to prove it's possible."

There are already more than eight months of materials stored in an organized manner in the house. The only ones discarded are the tailings. "We created a place for the disposal of waste, like toilet paper. The garbage truck comes every other day and performs collections. Our estimate is that it represents something, at most, around 5%. We've managed to hold 95 percent of everything that's made of waste." At the end of the year, the family intends to call a cooperative to carry out the collection of the material. "We will also know how much this is worth in money, so that we can have all the data gathered", Romulo adds.

Today, the whole family is much more aware of what they consume. "We know that some packaging items cannot be recycled, and we don't buy it. Our habits have changed a lot, we've been correcting ourselves over these eight months."

The whole process is told on an Instagram profile, @prof.lixozero, which already has more than 5 thousand followers. Romulo also seeks to always be up to date, so that he can teach his children and students about circular economics in the best way. Thus, he ended up getting to know the Circular Academy, the first open school of circular economy, created by the Circular Movement. "I found it through social networks, and I started taking classes. The content is very nice, it is very worthwhile. I also put it on my Instagram, to help promote the initiative, which is free. I concluded the classes and was able to participate in the exclusive Masterclass for the first students. It was a great experience, of great quality", the professor praises.

About Circular Academy

Circular Academy is the first open school of circular economics, with 100% free courses. The first course, "Introduction to Circular Economics", is available in three languages (Portuguese, Spanish and English) and is certified! Amazing, huh? You can also join this team: access academy.moviocircular.io and register!


WHAT IS CIRCULAR ECONOMY?

The Circular Economy proposes a new look at our way of producing, consuming, and disposing, in order to optimize the planet's resources and generate less and less waste. In other words, an alternative model to the Linear Economy - to extract, produce, use and discard - which has proved to be increasingly unsustainable throughout history. In the Circular Economy, the goal is to keep materials in circulation longer by reusing them until nothing becomes waste! For this model to become a reality, we all have a role to play. It is a true collaborative circle, which feeds itself, and helps to regenerate the planet and our relations.