News to circulate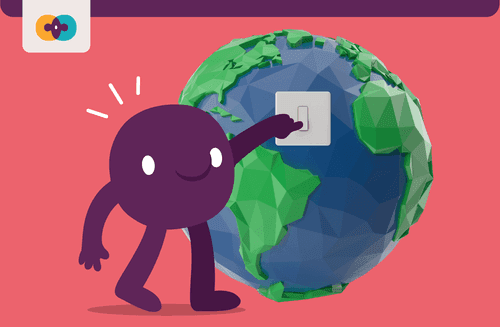 25/03/2022
Energy waste: we all feel it in our pockets
Prof. Dr. Edson Grandisoli, pedagogical coordinator of the Circular Movement

Water and energy in Brazil play an inseparable role. According to the Energy Research Company (EPE, 2020), about 65% of the electrical energy we use is obtained from hydroelectric power stations.

Periods of water scarcity (droughts) have become more frequent and more intense thanks to the reduction of the volume of rainfall in certain regions, which has led to a reduction in the level of reservoirs, jeopardizing the obtaining of energy. Less water, less energy, more expensive rates...

Global climate change plays a determining role in these rainfall changes, and at the same time has left some cities underwater, triggering major disasters like the one that unfortunately took place in Petrópolis this year.

Earth Hour

Whose responsibility is it to change this scenario?

Many newspapers, magazines, and TV news accounts in some way for nature when, deep down, we need to look at our choices and actions.

"Earth Hour is a movement that aims to raise awareness among individuals, companies and public authorities about current socio-environmental challenges, such as the climate emergency and the loss of biodiversity," according to the WWF website, one of the world's leading environmental NGOs.

In 2023, Earth Hour takes place on March 25 at 8:30 pm local time, and you don't even have to leave home to participate. On this day and time, you must perform a symbolic gesture by turning off all the lights in your home or office for one hour, demonstrating your commitment and engagement in tackling climate change.

"The mobilization and energy saving of millions of people adhering to this symbolic gesture underscore the power that we all have to change this trajectory and renew our relationship with nature", according to the WWF-Brazil website.

This movement has been taking place worldwide since 2007.

Join us from the Circular Movement at Earth Hour!

WHAT IS CIRCULAR ECONOMY?

The Circular Economy proposes a new look at our way of producing, consuming, and disposing, in order to optimize the planet's resources and generate less and less waste. In other words, an alternative model to that of the Linear Economy - to extract, produce, use and discard - which has proved increasingly unsustainable throughout history. In the Circular Economy, the goal is to keep materials in circulation longer by reusing them until nothing becomes waste! For this model to become a reality, we all have a role to play. It is a true collaborative circle, which feeds itself, and helps to regenerate the planet and our relations.