News to circulate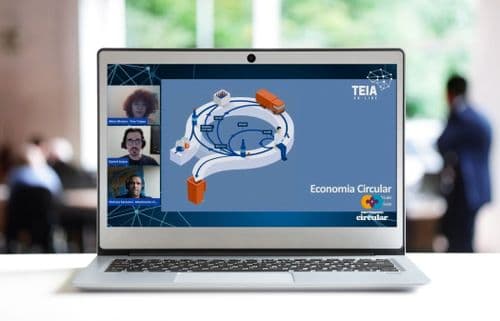 15/06/2021
Circular Week in Brazil and Mexico
The event took place between the 7th and 11th of June, continuing the celebrations of the Environment Week

The month of June started full of celebrations! After the Environment Week, the Circular Movement promoted, between the 7th and 11th of June, the Circular Week, bringing knowledge about circular economy to the four corners of Latin America. The events took place in Brazil and Mexico and brought together dozens of people around the agenda of a more sustainable world - and free of waste!

On June 7, the São Paulo Development Agency (Adesampa) broadcast live on social media the event "Let's invent a more circular environment?". The chat was attended by Vinicius Saraceni, coordinator of the Circular Movement, and Daniel Guzzo, who is a partner in the initiative.

On the same day, the winner of the Circular Challenge of the Tecnológico de Monterrey, Mexico, was awarded. More than 60 students participated in the first edition of the challenge, which won the work "DES[IGUALDAD]".

On June 8, Virada Sustentável broadcasted, through YouTube, the event "Everything you need to know about Circular Economy and you were ashamed to ask", teaching the bê-a-bá of this new way of making the world work. The guests were Gabriela Gomes, from Abrelpe, and Daniel Guzzo, from Insper. The conversation was mediated by Vinicius Saraceni and André Palhano, from Virada Sustentável.

Also on the 8th, via Google Meet, there was a training for teachers on circular economy in Mexico, in partnership with Instituto Tepeyac.

"We increasingly want to put the circular economy on the agenda of society, so that people can get to know different forms of production, consumption and the opportunities generated by this new way of working the world. Circular Week was a very important moment for the dissemination of this very important agenda and none of this would be possible without our partners embracing the cause with us. We will continue working together for the world we want to build", said Vinicius Saraceni.

With the successful edition, Circular Week will now be part of the Circular Movement calendar. And in 2022, it promises even more news!